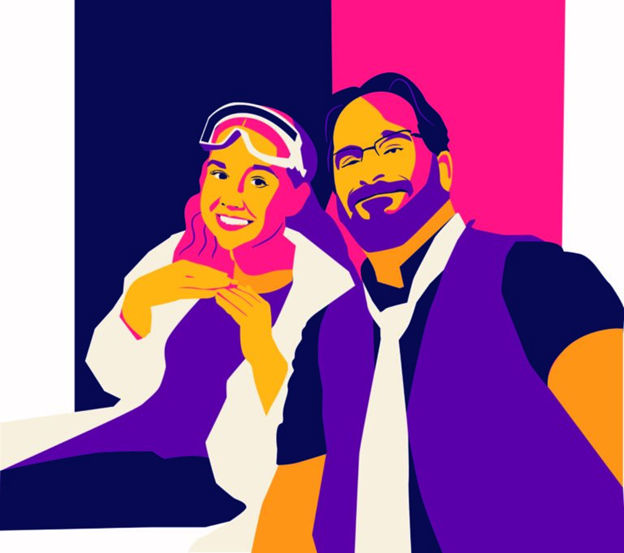 Escorting a daughter down the aisle is a once-in-a-lifetime moment for any father. For Andy Brannan, it involved a little role reversal: His unforgettable moment came as his daughter, Sophie, walked him down the aisle.
Brannan was being installed as a grand officer with Job's Daughters, which Sophie had participated in since she was 10 and which Brannan began volunteering with a few years later. By the time Brannan had risen through the adult ranks of the organization, Sophie was a past honored queen of Auburn Bethel No. 148, making her responsible for escorting him to the altar. At the end of the event, the Job's Daughters and adult guardians performed the ceremony of the closing cross—and, by chance, father and daughter ended up stationed directly in front of one another. "That was really cool for me," Sophie says. "A real proud moment."
That feeling of pride went both ways. For Brannan, the event was a significant milestone on a journey that he and Sophie had taken together. Sophie, now 20, continues to serve as a majority member of Job's Daughters while going to school at Sierra College in the pre-nursing program.
Beyond giving father and daughter a reason to spend time together, Brannan, a member of Eureka No. 16, says that their shared experience in Job's Daughters gave them a language with which to discuss woolly concepts like leadership and self-improvement. Watching Sophie rise through the officer's stations to honored queen—and accepting the burdens of fundraising, organizing, and memorizing the ritual that come with the position—showed Brannan just how capable his daughter really was. "I realized some of my views of my daughter were based on who she was when she was younger," Brannan says. "I got to see a side of her I might never have been able to see."
Excerpt from:
California Freemason Magazine, 7/14/2020
#GirlDads – How Freemasonry Deepens the Sacred Connection Between a Father And Daughter.
By Ian A. Stewart